课程学分:2
课程内容:
The hardest part of screenwriting is not the writing, it's the knowing what to write.
For many years I worked for Ed Solomon, one of the top screenwriters in Hollywood. While there, we worked on many production rewrites where we were often given 3 short months to fix and rewrite a script before it immediately went into production.
The very first thing we did was to outline, and re-outline, and re-re-outline the film, breaking the story. We'd diagram the movie over and over again on white boards until we knew EXACTLY what we were going to do page by page and moment by moment. Often, a month in, we'd get a call asking when they could see some pages. When Ed explained that we hadn't started writing yet, people would start to panic.
Then Ed would explain: If we get the story right before we write it, it'll write very quickly. (And it did, often at 15 pages a day.) But if we don't get it right, then it won't matter what we write. It won't work.
And he was right.
And this is the skill we're going to be working on in this class. Learning to SEE your story, and to have a VISION for it, before you write the first words on the first page.
As such, the goals of this course are as follows:
1) To teach you how to see the hidden structures of your screenplay, and to learn to weave these structures together so that they "dance with each other" and all work together.
2) To help you develop your voice, and hone your writing, so that it expresses what makes you uniquely you.
3) To more deeply understand the process of writing.
课程教师:Peter Robinson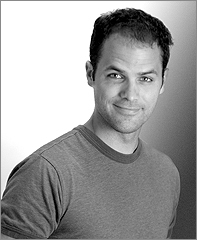 教师介绍:Peter Gamble Robinson is the co-writer of Office Uprising (starring Brenton Thwaites, Zachary Levi, Jane Levy, Karin Soni, & Ian Harding) which was developed for Crackle. Most recently he's completed Wish Police & The Mischievians for ReelFX, and is now developing the project Supervillain Academy. He began his career as the ghostwriter of House of Sand and Fog, and his script The Harrowing won awards in the Scriptapalooza Screenwriting Competition, the CAPE New Writer's Award and was a semi-finalist for the Nichol.
Peter worked for 12 years in the writer's room of A-List screenwriter Ed Solomon on films including Now You See Me and Now You See Me 2. He's a graduate of the University of Southern California's film program where he received both his BFA in screenwriting (Cum Laude) and his MFA in directing. He has taught as an adjunct professor in USC's screenwriting program since 2008.