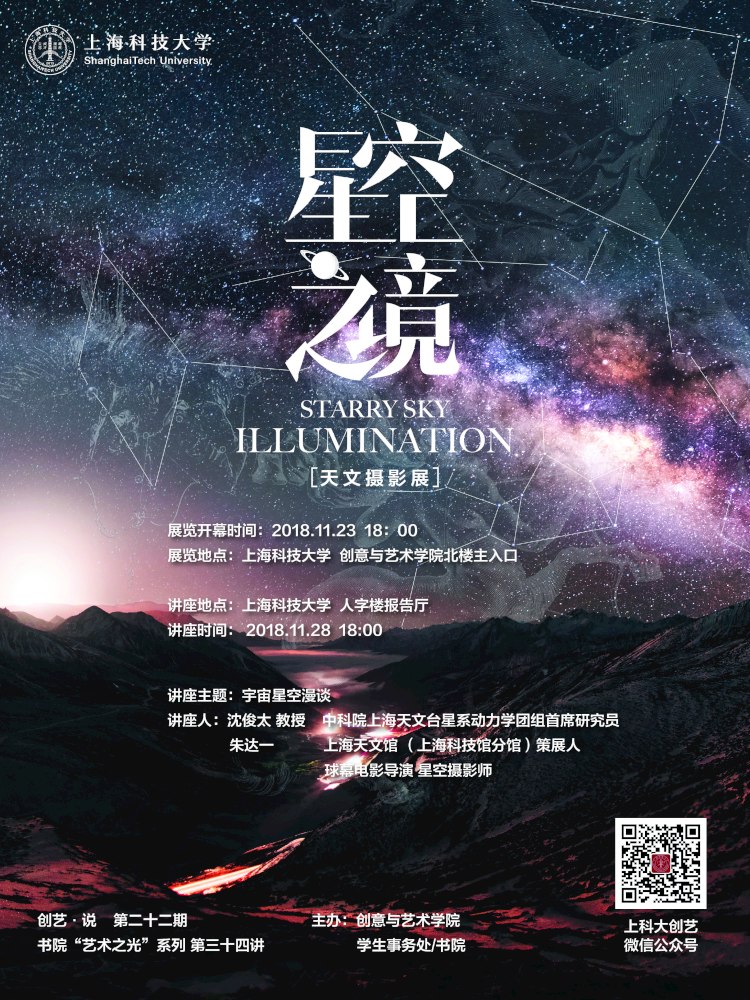 Duration
Nov.23, 2018 —— Jan.20, 2019
10:00——20:00
Venue
North Building Lobby
School of Creativity and Art
About the Exhibition
"Star Lighting Jiuzhou" —— China's starry sky photography. Busy cities and villages, thousands of years of historic sites, quiet mountains and rivers, like the stars behind the rise and fall, running around again and again.
"Stars of the Universe" —— International starry sky photography. Five continents, "Belt and Road", the epic of civilization and the magnificent starry sky under the lens.
"Shades of Stars" —— Celestial photography. Let us trace the source and discover their beauty in the vast universe.
Starry Sky Illumination —— Astrophotography Exhibition is originally exhibited at Shanghai Science and Technology Museum. It's a continuous output in the field of astronomical sciences. It displays top-notch astronomical photographs both in China and aboard, bringing the beauty above the wilderness back to the city and making the unreachable sky become accessible. At 18:00 on November 28th, come to School of Creativity and Art to experience the beauty of astronomy!