The school motto has been written by the robot and sophisticated aerospace devices were manufactured by 3D printers; We are exploring the impact of artificial intelligence on social, humanities and arts, and the relationship between product design and user emotions; we are imagining and designing the smart life and cities in the future, and exploring VR/AR/MR to bring realistic entertainment experiences. We are exploring VR/AR/MR to bring realistic entertainment experiences; we are empowered by fog computing to meet the needs of innovative networks and smart services ...... We have more possibilities waiting you to explore together!
Lab platform of School of Creativity and Art with six laboratories will be open to all students and teachers. Visitors will have a close visit to the labs and have the opportunity to discuss with professors face to face.
Details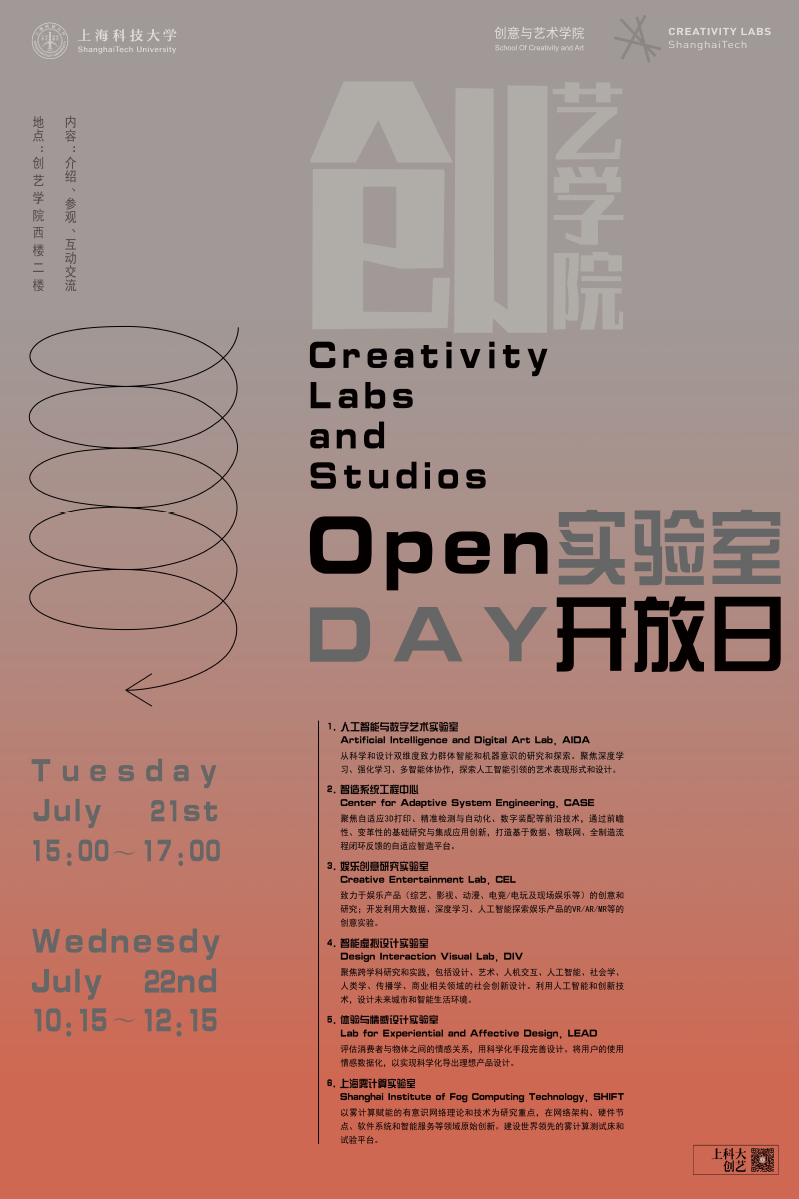 ------ Time ------
Tuesday 21 July 15:00-17:00
Wednesday 22 July 10:15am-12:15pm
Both events are the same and can be attended at a later date
------ Process ------
Introduction to labs
Lab tour
Interaction
------ Location ------
2nd Floor, West, SCA
Creativity Labs and Studios is a cutting-edge platform of the School of Creativity and Art, gathering laboratories in the fields of intelligent design, entertainment design, intelligent manufacturing, artificial intelligence and communications. It is dedicated to giving each laboratory a more multi-dimensional vision through the crossover and integration of multiple disciplines, realizing innovation in each research field and training talents with a cross-disciplinary foundation, creative and innovative ability, international vision and humanistic care. A growing number of scientists, artists and design masters are meeting here.
Our labs are now recruiting Masters/PHD candidates.
For more information, please follow the WeChat public website or click on the link: http://sca.shanghaitech.edu.cn/zsxx/list.htm