Erich Heckel
《Two man at a table》&《Portrait of a Man (Männerbildnis)》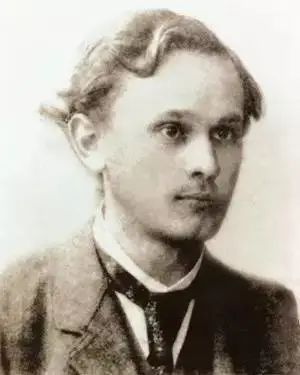 Erich Heckel
1883-1970
Erich Heckel (1883-1970) was a German expressionist artist and printmaker, and one of the founders of The Bridge. Born in Dobern, Sax in 1883, he studied architecture at the Dresden Institute of Technology and became an artist mainly by self-taught. In 1905, he founded the Bridge Society with Ernst Ludwing Kirchner and others. The meaning of the word Bridge Society is to unite all German artists against corrupt academic painting and sculpture, to build an aesthetic that connects both tradition and modern sensibilities and forms, thus creating a place between the artist and a tangible and powerful source of spirituality. Build a bridge between them. Influenced by Edvard Munch, Vincent van Gogh and others, he pursued the expression of inner needs in art. Compared to his peers, however, he seems to have maintained a rigorous, cool and restrained style. Most of his works are tragic themes. The suffering images of the sick, the clown, and the lonesome fill his images with pain, sorrow and unease. He used square or angular shapes, a geometry that seems to be influenced by Cubism. However, unlike Cubism, he is not out of the need for structure, but to convey a certain strong emotion and reveal the complex psychology of the characters. His characters look haggard and depressed, as if trapped in some hopeless and inextricable state by the weight or pain of long-term life. Rough lines and dull colors enhance the expressiveness of his works. During World War II, Hekel could not escape the doom of Nazi persecution. His studio was raided, many engravings were destroyed and confiscated, and the Nazi authorities declared his works to be degenerate art and banned from exhibiting. After World War II, Heckel taught at the Karlsruhe Academy of Fine Arts in Germany, where he died in 1970.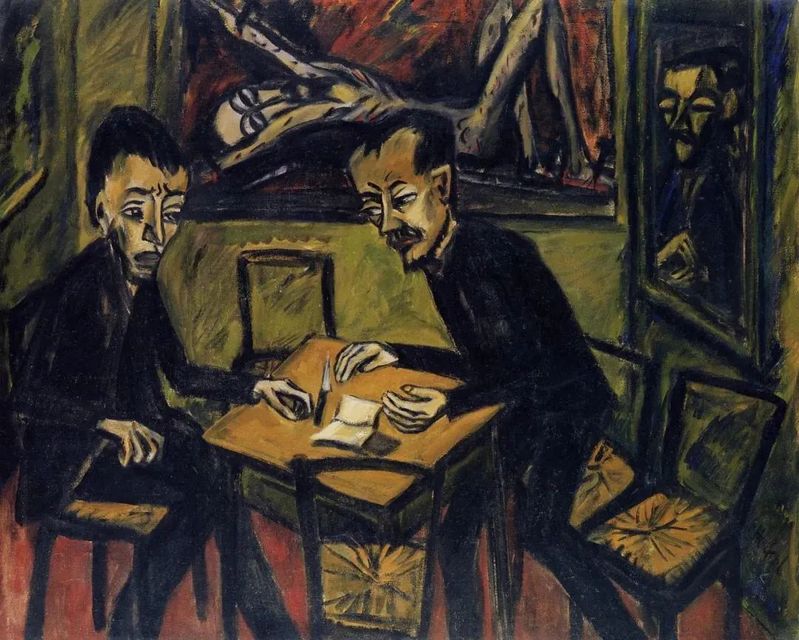 Two man at a table
Erich Heckel, 1912
"Two man at a table" is Hekel's representative work, depicting a dramatic scene of two men talking at a table. Huckle's early works are a good example of psychological epiphanies and lyrical flashes. It is especially common that his haggard figures suggest a Mannerist formula rather than a sense of powerful inner conflict. In this painting, in this compressed interior space, the man on the right leans forward and is talking, while the man on the left frowns and has a sad face, obviously suffering some kind of torture. This preoccupied and haggard figure is typical of many of Heckel's works. Not only the characters, but also the compressed, sloping room space is full of emotion. In addition, on the wall in the background of the painting, there is a picture of the crucifixion of Christ, which seems to suggest to us the tragic theme of the painting. The painting, titled "For Fyodor Dostoyevsky", is almost a literary illustration for Doon's novel "Brothers Karamazov".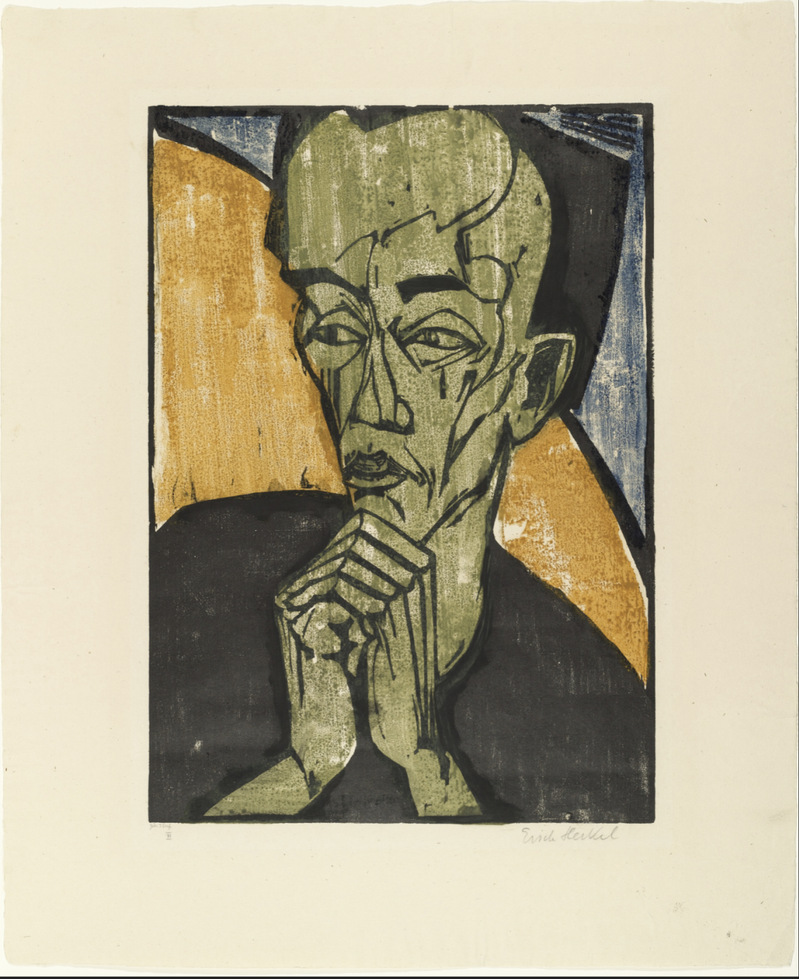 Portrait of a Man (Männerbildnis)
Erich Heckel, 1919
This haggard self-portrait, created a year after Germany's defeat in the war, expresses a sense of physical and mental, personal and national exhaustion. The artists of the Bridge Society have reverted to the woodcut technique, which dates back to the 15th century in Germany. Huckle and his colleagues tapped the potential of woodcuts to create bold flat patterns and punchy visuals. In "Portrait of a Man", this approach can be seen in the styling of the hair and shirt, the sharp angles of the head, and the jagged lines that shape the face. The folded hands are reminiscent of Christian prayers in medieval woodcuts, a religious connotation represented in iconography in an iconographic-like format; black lines enclose splendid areas of green, yellow, and blue, like light shining through a church The effect of stained glass windows enhances the sense of religion. But as those saints and believers turn to heaven for inspiration or forgiveness, the figure looks helplessly to the left, looking very depressed.
In 1952, IBM launched the IBM 701 computer, a large-scale computer for business and scientific research from IBM, and the world's first mass-produced computer.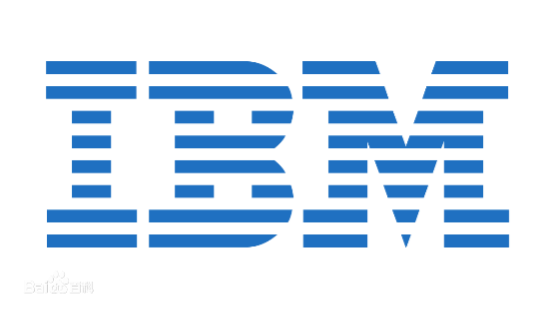 "Big Blue" IBM (International Business Machines Corporation)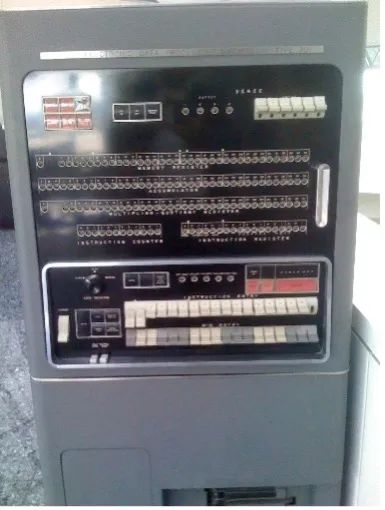 Operation console of the IBM 701, 1952
The IBM 701 was based on vacuum tubes, which were smaller, faster, and easier to replace than the Mark I computers made in 1944.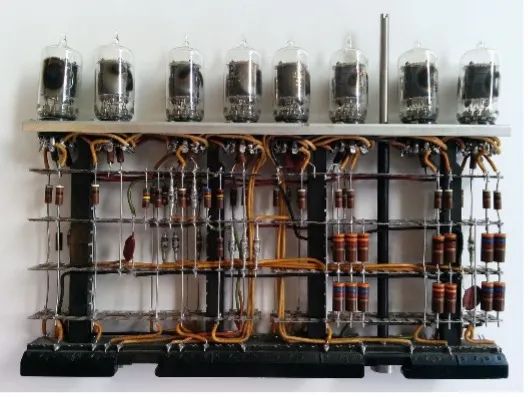 Logic circuit made of transistors in BM 701
The IBM 701 computer can execute 17,000 instructions per second, far exceeding the computing power of its predecessor, making the 701 computer widely used in scientific research, economics and trade. As IBM Thomas J. Watson, Jr. (son of IBM founder) said, "It was this computer that brought us into the age of e-commerce."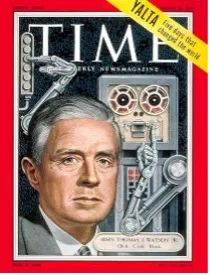 On March 28, 1955, Thomas Watson Jr. was featured on the cover of "Time" magazine. This huge computer weighing about 9.3 tons was an invention that completely changed the world for people at that time. Time magazine wrote: "In just 12 machine hours, a computer will produce 1,200 cost statements that would normally take 1,800 people to complete. "The IBM 701 brought computers previously limited to military use to civilian use, It has greatly improved the efficiency of social operation and contributed to the development of economy and science.