On June 10-16, 2021, during the school's open day, the School of Creative and Art will exhibit the rich curriculum results of more than 100 students led by four teachers of the Design Thinking course. The exhibition location is located in the first floor exhibition hall of the West Building of the School of Creative Arts.
The School of Creative Arts has a very diverse student group that breaks the boundaries of art/design/science. In the design thinking course, they try various medium to explore problems, to design solutions and prototypes, to think and imagine. In this class, creativity and innovation are the biggest driving forces, and students are encouraged to use design thinking methods to improve their ability to discover and solve problems; applying insight to various fields to establish a balance and integration of multiple technology and professional research content; training team cooperation and collaboration ability.
The exhibition will focus on the curriculum achievements of the four teachers, from images to research materials to design prototypes, including diversified display of teaching process, students' output and visual presentation of design thinking model.
Note: Design thinking was proposed by Herbert Simon & Robert McKim in 1969, but it was not until David Kelley founded Ideo and Stanford D.School in 1991 that Design Thinking slowly entered the public eye.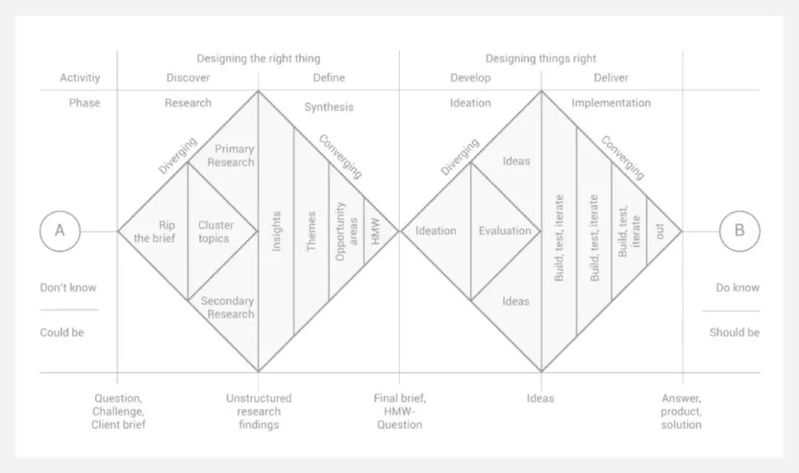 Double-Diamond Model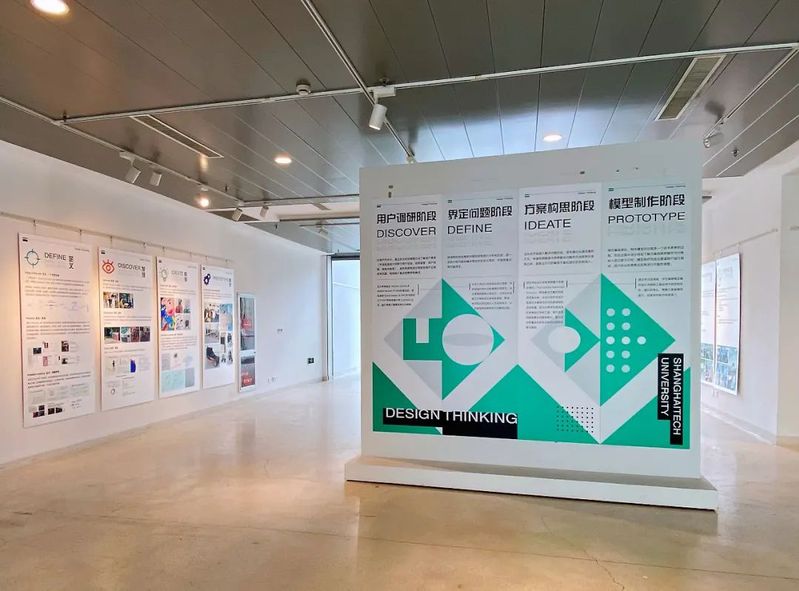 Exhibition Site
The Design Thinking of Double Diamond model is divided into four stages:
Focus on users and understand user needs through diversified research methods (methods include but are not limited to user interviews, field surveys, user experience, questionnaires, etc.). This stage helps the designer to think about the problem from the user's standpoint and find the user's real needs and pain points.
Analyze and summarize the collected problems and information, further analyze the deep-seated reasons behind the problems and pain points, and refine the key points to define the problem.
This stage begins to solve problems. First, through brainstorming, the various problem-solving methods in the mind are quickly presented visually, and feasible solutions are refined and deepened.
The process of realizing the plan and making the model is a hands-on and thinking process. In this process, the designer will understand the feasibility of the plan's use and operation and the feasibility of human factors engineering. After the model is made, the user is invited to test, and then the user gives the adjustment of the plan will be carried out after feedback.
Curation/Execution
Bin Shen, Xinyi Qu
Visual Design
Hongshu Gao
Time
June 10-16, 2021