Recently, the Shanghai Municipal Education Commission issued the notice of the Shanghai Municipal Education Commission on publishing the list of municipal key courses of Shanghai Universities in 2021 (Hu Jiao Wei Gao [2021] No. 34). The course introduction to modern art applied by the school of creativity and art of Shanghai University of science and technology was approved, which is also the first municipal key course approved by the school of creative arts since its establishment.
Introduction to modern art is an art general course with modernist art as the main line and including modern architecture, modern design and other disciplines. Since its establishment, it has been a popular art course for college students. After nearly two years of accumulation and improvement, it has gradually formed distinctive course characteristics.
Super popular speaker group
This course was jointly lectured by President Wang Shouzhi and Professor Wang Jie. They are from the field of design theory and contemporary art creation respectively, representing the top level of their respective industries. In this course, the two experts and professors cooperated tacitly, mastered each other, and jointly staged a wonderful explanation on modern and Contemporary Art.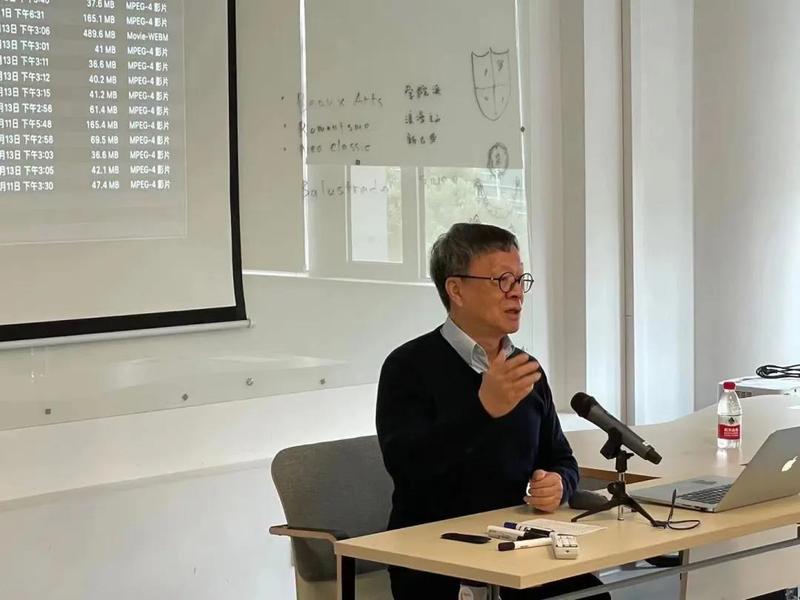 Lecture site of President Wang Shouzhi
As a pioneer in the field of Chinese design theory and the founder of modern design education, President Wang Shouzhi enjoys high honor and extensive influence in the industry. He has written the world's modern design history, the world's modern architecture history, the world's modern plane design history and other books as postgraduate teaching materials, It has influenced generations of Chinese designers and artists. Therefore, President Wang focuses on the professional explanation of design history and architectural history, as well as the interaction among art, design, architecture, film and music under the tide of modernism. In class, students can not only hear the case analysis of President Wang's architectural history and design history in simple terms, but also get access to the specific knowledge of music and the relationship with the process of art development. You can even see the historical map drawn by President Wang, from the historical story of the French Revolution to the international form of World War I and World War II, This leads to the turning development of modern art. These magnificent and open course contents are at the disposal of President Wang, vivid and wonderful, and the students are intoxicated and happy.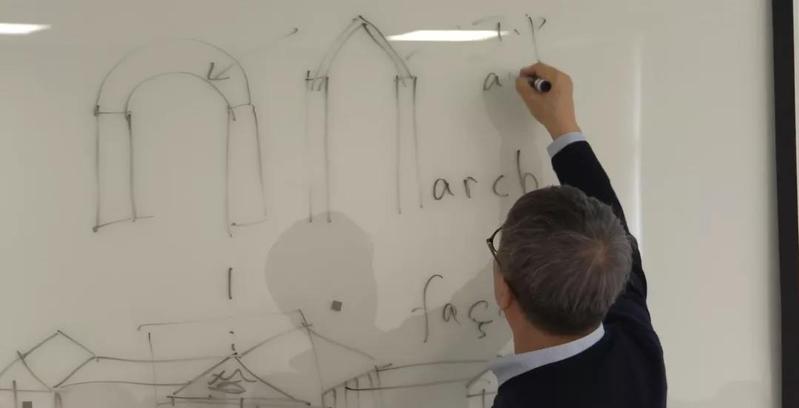 President Wang Shouzhi's hand-painted explanation of Architecture
Professor Wang Jie is a representative of China's new generation of comprehensive material art and concept painting. He is one of the first post-75 artists to cooperate with overseas galleries and one of the first Chinese young artists to land in top international auction houses. In the oil painting major of the Central Academy of fine arts, he has experienced affiliated high school, undergraduate, graduate and staying in school to teach, and is proficient in the materials and techniques of oil painting, propylene, wax color, toner, danpeila and many other paintings. Therefore, Mr. Wang Jie focuses on the specific analysis of works and pictures, especially the influence and transformation of formal techniques among art schools, and explains the logical relationship of the development of art history through specific cases and works comparison. Teacher Wang Jie thinks Art research is like investigating a case. The clues in it are not in the literature, but more hidden in the picture. The literature may lie, but the strokes and colors will not. All the artist's ideas, emotional expressions and technical origins can be found in the picture. These visual codes, even after hundreds of years, are still valid. They wait for people who know the painting code to know the most The final crack. Therefore, Mr. Wang Jie often puts aside the existing views in art history and finds a new way. His art explanation is specific, in-depth and refreshing. In particular, as a professional artist who personally participates in promoting Chinese contemporary art, Mr. Wang Jie not only explains art works from an academic perspective, but also analyzes the types of contemporary art from the perspective of market and art ecological environment A kind of mystery, so that students have a sense of seeing the sun through the clouds.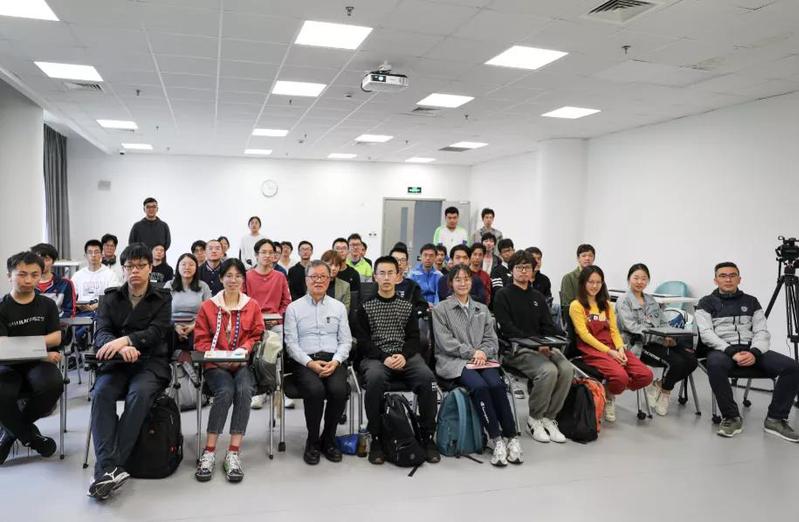 Group photo of introduction to modern art in spring semester 2021
The joint lecturer of the two heavyweight teachers is unique in the same type of courses in China, from qualification, professionalism to cooperation and complementarity. Therefore, it is jokingly called double king bombing combination. The students' learning enthusiasm is high and the response is enthusiastic.
Course content of brain hard core burning
Although the course introduction to modern art has only 32 class hours and 2 credits, in terms of content knowledge, it actually has a knowledge intake of more than 4 credits. Specifically, the course explains in detail the evolution process of western modern art history in the past 300 years from the 18th century to the 20th century, focusing on the promotion process of modernism movement - germination, origin, formation and development, and specifically analyzes the internal relationship and evolution logic among various art schools and art movements during the period, including contemporary architecture, design, music, film The linkage between philosophical theory and modernism. Among them, more than 500 painters, sculptors and artists, more than 200 architects and designers, and more than 2000 works were explained and watched.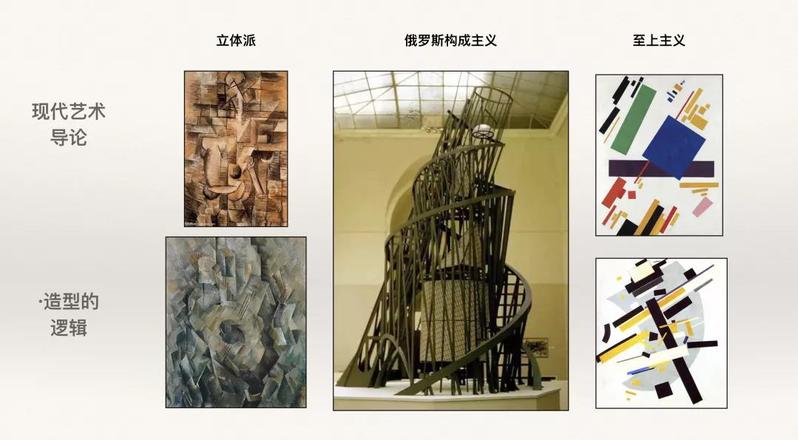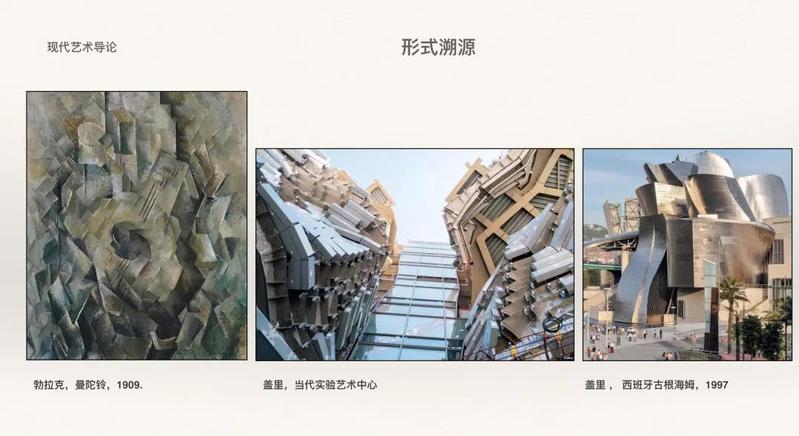 Courseware screenshot: Mr. Wang Jie explains the development of Modernism

The course assessment is not only a general theme paper, but also requires students to conduct artist case study and complete the investigation report in the past two semesters. Students will select artists they are interested in to discuss in groups and communicate with teachers one-on-one to write a research report on cases of modern and contemporary artists, including artists' life, biography, chronology, art interpretation, photos, images, works and notes, brief description of relevant materials, and personal views. Therefore, after the whole course, many students called brain burning. The amount of information is too large, which is both solid and rich.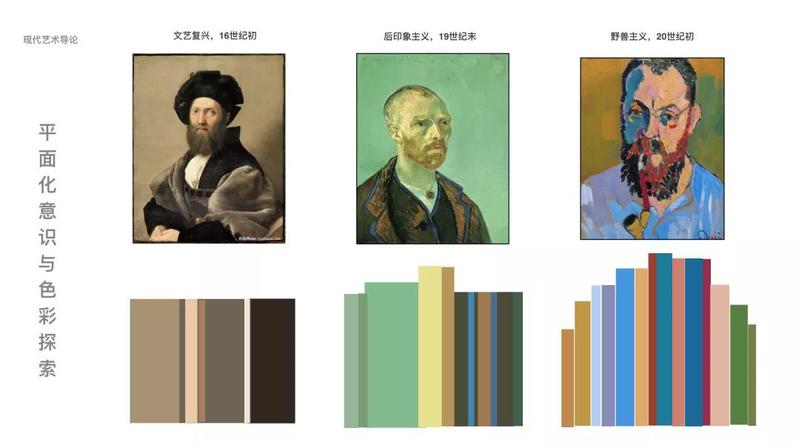 Courseware screenshot: Teacher Wang Jie explains modernist color theory

Diversified forms and technical support of scientific research laboratory
In order to broaden students' artistic vision and improve the reading range of artistic works, teacher Wang Jie prepared nearly 2500 pages of PPT for the course to bring students the most full experience of art appreciation. In addition to explaining architecture with hand-painted sketches, President Wang Shouzhi carefully screened and prepared all kinds of precious image materials before each class, including introduction videos of various museums, theme videos of art genres, lecture interview videos, on-site materials of classical concerts, film introductions, etc. At the same time, in order to facilitate students' review after class and meet the needs of art lovers, President Wang Shouzhi has recorded videos for nearly 720 minutes, and three episodes have been uploaded to the network.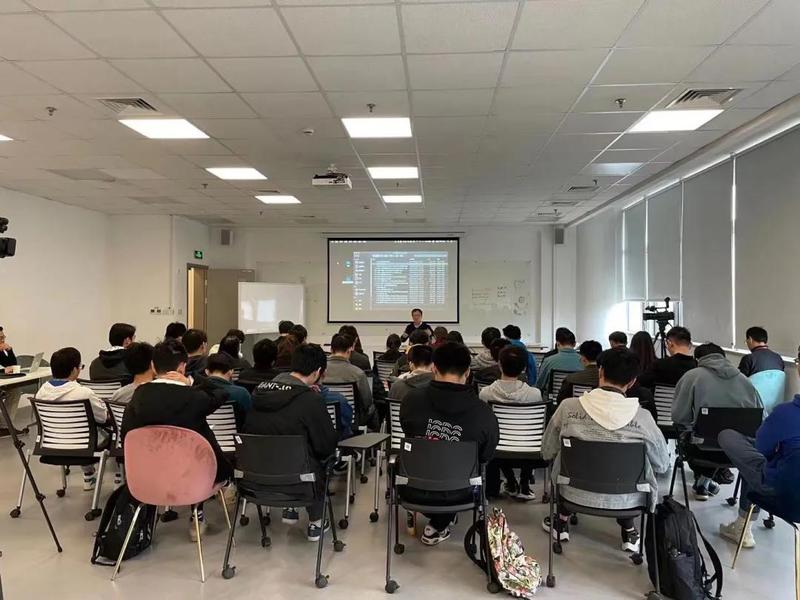 Lecture site of President Wang Shouzhi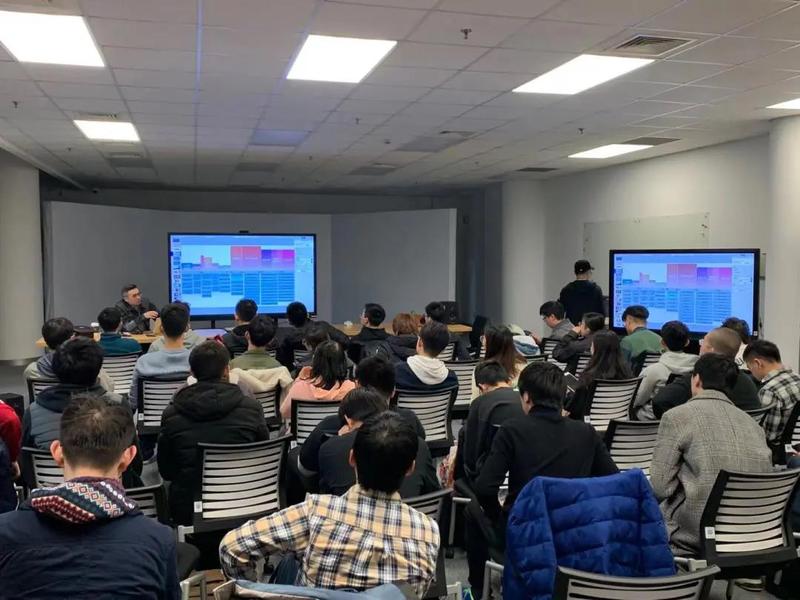 Professor Wang Jie's lecture site
Teacher introduction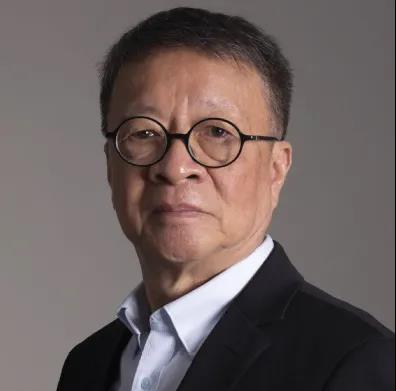 Wang Shouzhi: an expert and theorist in the history of design and art, vice president of the school of creativity and art, and the founder of modern design education in China. Since 1980s, Professor Wang Shouzhi has been engaged in design and art teaching, textbook writing, academic research, teaching system reform, planning and organization of large-scale activities, postgraduate training and international exchange activities. He is a lifelong professor of the Art Center Design School in the United States, President of the Changjiang School of art and design, Shantou University, visiting professor and doctoral supervisor of the design major of the Central Academy of fine arts. He has participated in the planning and design of hundreds of important projects and has more than ten million words of works. He is a design authority with international and domestic academic influence. His representative works history of world modern design, history of world modern architecture and history of world modern graphic design have become classic textbooks in the field of design, affecting several generations of Chinese designers and practitioners.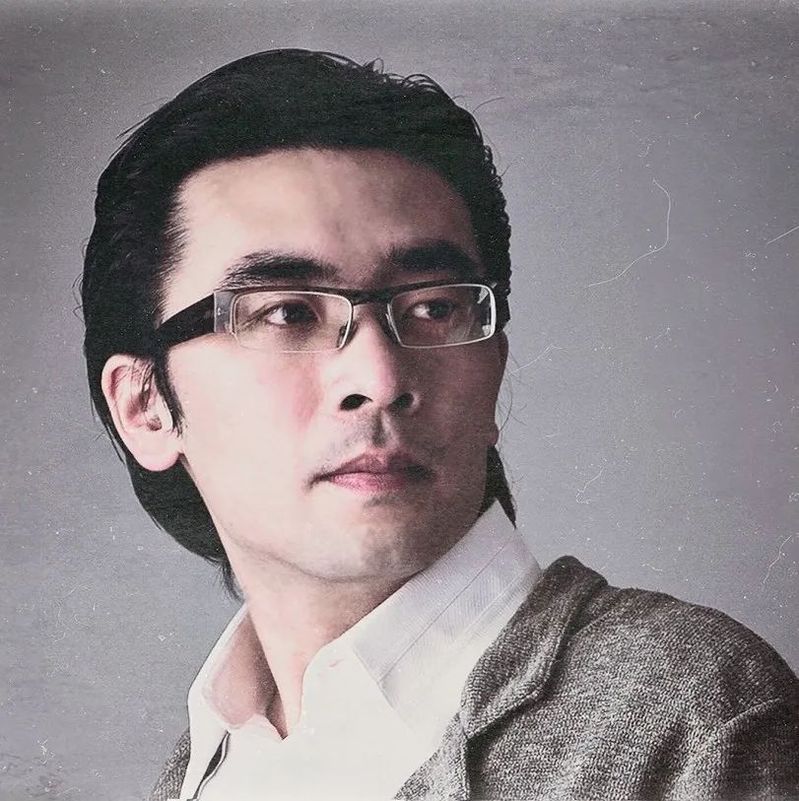 Wang Jie: contemporary artist, an important painter in the field of comprehensive material and concept painting. He graduated from the oil painting department of the Central Academy of fine arts with a bachelor's degree and a master's degree (MFA), who taught in the material art studio of the oil painting department of the Central Academy of Fine Arts in 2008, participated in the preparation of the first set of professional teaching materials project of the Central Academy of fine arts as a main writer, and won the Beijing excellent teaching materials award. He has won the Eland Gold Award for oil painting of the Central Academy of fine arts, the best technique inheritance award, the outstanding artist award of the world aesthetics conference, the 2012 Chinese artist of the year and other important awards. He has successively worked in Beijing Beijing, Shanghai, Taipei, Berlin, London and other regions hold and participate in important solo exhibitions, joint exhibitions and art fairs. Since 2018, he has taught at the school of creativity and art of Shanghai University of science and technology, offering history of Western art, introduction to modern art, color theory and application, oil painting and comprehensive materials And other courses. Since 2018, interdisciplinary art and scientific research creation have been carried out in the school of creative arts of Shanghai University of science and technology, mainly involving AI painting, biomaterial art, chromatics, 3D printing sculpture and other fields.

Teaching team
Course recording: Intelligent Virtual Design Laboratory (DIV Lab)
Teaching assistant: Qu Xinyi
Teaching assistant: Liu Suying
Students' feelings on course selection
Lu Yichen:
President Wang Shouzhi, who is well versed in both ancient and modern times, gave a lecture from a strategically advantageous position and boundless, with academic flavor and humor. He led us to conduct an in-depth discussion on art from the aspects of painting, music, sculpture and design; Mr. Wang Jie's lectures were simple and interesting. He gave a comprehensive explanation of modern art with artists and works of art at all times, at home and abroad, and carefully analyzed various western art schools and art movements. Art is a very complicated field. This course leads us to explore various art categories. The guidance of the two teachers has virtually improved our artistic cultivation and aesthetic ability, which has benefited us a lot.
King:
It is a pleasure to roam in the long history of art. The charm of beauty in the University of science and technology is also unique. Teacher Wang Shouzhi's eloquence integrates painting, sculpture, architecture and music in series to form a brilliant picture of knowledge; Teacher Wang Jie's sharp comments and unique insight let me experience the unique charm of contemporary artists, and the analysis of minority historical artists is also novel.
Wu Sirui:
Introduction to modern art must be one of the best courses I have ever experienced in Shanghai University of science and technology. President Wang Shouzhi's vivid, erudite and passionate speech really moved us: starting from the meaning of modern art, he introduced the impact of art on people's life, including the explanation of architecture, art, design and even music, so that we can appreciate art from a more complete and comprehensive perspective. President Wang will also ask the students' interests in detail, adjust the direction of the content accordingly, and patiently answer your questions. Mr. Wang Jie introduced in detail the transformation process of art from realism to deconstruction, and appreciated the classic paintings of various factions. The one semester course is very rich and interesting, which improves our understanding of art and cultivates our appreciation, so that we can visit the art museum more calmly and understandably in the future. In short, it is highly recommended!
Ouyang Yang:
I like Dean Wang Shouzhi's class very much. I feel that he has always had a spirit and an artist's spirit in class. With this spirit, he is affecting our group of students, hoping that we have some understanding of modern art. The history of modern art is not dry, but flesh and blood. Mr. Wang Shouzhi led us to the history of modern art in various ways. I think I am very lucky to have the opportunity to listen to Wang Shouzhi's class, which makes my mind washed by art and really enjoy the feeling brought by art.
Xie Yuhao:
Introduction to modern art is a brain burning art history course. Through the explanation of history and works, the two teachers not only show the perceptual color in art creation, but also analyze the rational logic contained in art development. This enables us to recognize modern art with a variety of thinking, and also stimulates our interest in Appreciating Modern Art through exhibitions and other ways.
Dai Qiyuan:
I took this course in the second semester of my junior year. The teaching content covers painting, sculpture and music. What impressed me most was the content about the American Metropolitan Museum and the British Museum, which made me want to have a look in person if I didn't have much interest in painting and sculpture. The two professors are full of passion, personality charm and five-star praise.
Lin Han:
Four classes in the afternoon of every Thursday are spent in the course of introduction to modern art. Generally speaking, even classes in the afternoon are always easy to make people sleepy, but the Introduction to modern art full of dry goods can always make people cheer up. In the first two classes, Mr. Wang Shouzhi introduced us to the history of art. He has always emphasized that art is not only painting, but also architecture, sculpture, music, drama, materials, etc. and the style of art is also affected by the background of the times and the current social situation. What impresses me deeply is that Mr. Wang Shouzhi can always connect the development of architecture, music, painting and other things, clarify the causal relationship and inheritance relationship, and always outline the territory and summarize a clear historical context, so that we non art major science students can also well absorb art and culture. In the last two classes, Mr. Wang Jie tells us about the history of painting in detail. From ancient Greek and Roman painting to the active Impressionist period, Post Impressionism, pop art, contemporary art, etc., Mr. Wang always carefully analyzes the color, brightness and the painter's mood in his works, and often points out the relationship between the two works in different periods, as well as the artistic works The subtle influence among artists makes us from invisible to visible, from unable to understand to understand.
Group photo of introduction to modern art in autumn semester 2020