The ACTIVE FLEXIBILITY Interaction Design Multivitality Workshop came to an end on October 30, 2022. Thanks to the active participation of the students. In an interactive teaching context, we guided the workshop participants through the design research workflow, introduced international research practices and encouraged them to think about designing physical activity in the context of interactive systems design research.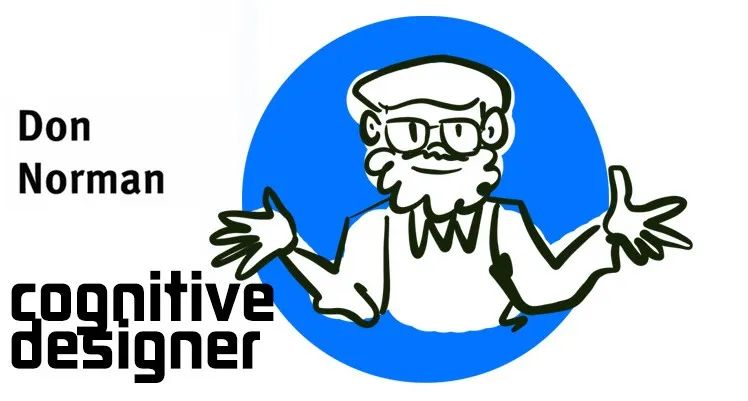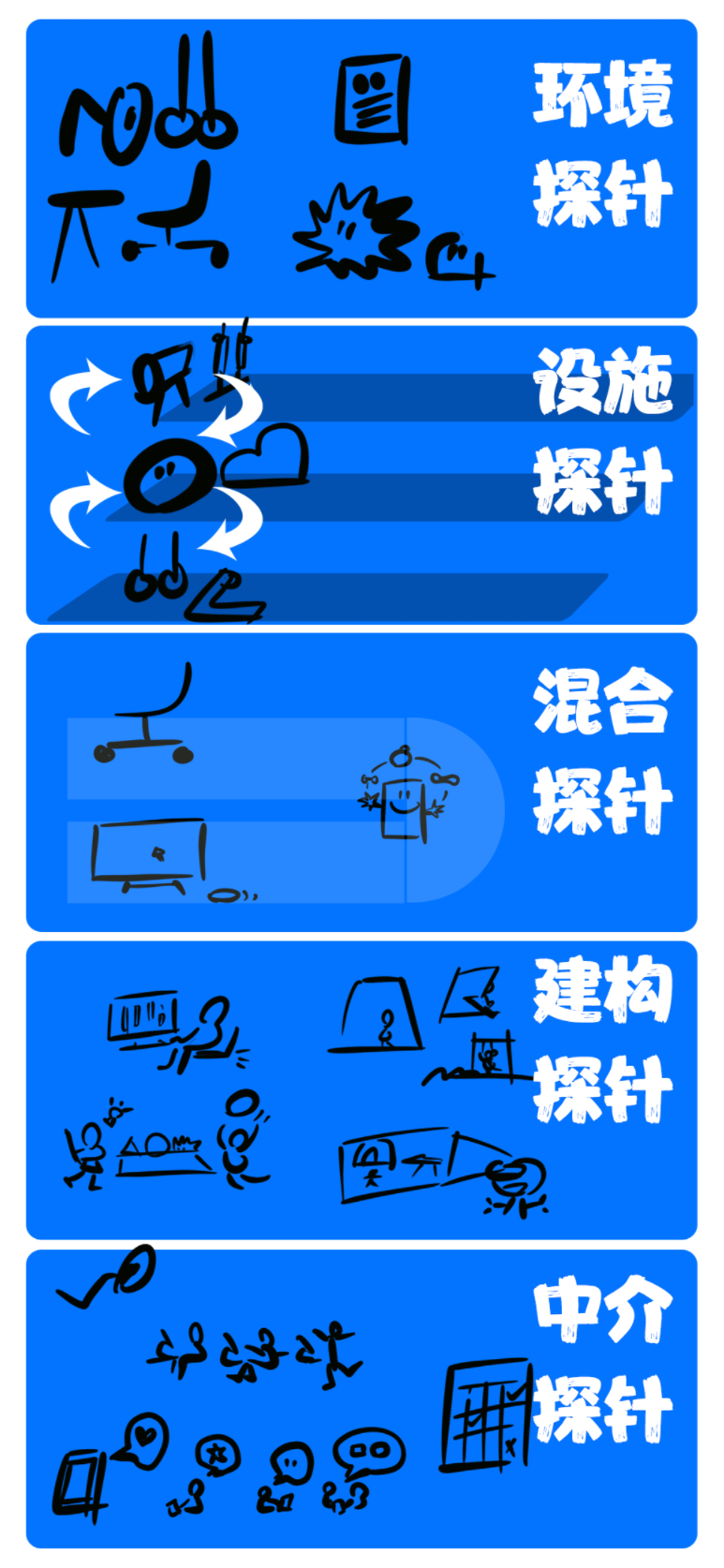 Design research is an important part of all designers' work. Some of the emotional and abstract user feedback is often unexplored by traditional or single design research methods, and the results of design experimentation and exploration are often difficult to define and present in traditional design forms, so we decided to borrow a set of visual notes to showcase some of the design knowledge innovations generated in the workshop.
The goal of this workshop was to use the constructive design research model to help designers design theme-related cultural probing tools to better understand the dynamic needs of desktop workers in sedentary situations. In the end, more than 20 participants were divided into five groups (including one online group) to propose their own probe tool design concepts from different perspectives.
The "Environment Probe" concept group advocated the use of office environment (desk, chair, energetic objects, etc.) with sensor devices to monitor users' sedentary and energetic behaviors in real office environments.
The "Facility Probe" concept group proposes to observe and collect data by placing different types of energetic facilities on different floors, and users can scan QR codes on the devices for further feedback.
The "Hybrid Probe" concept team hopes to combine the physical office environment with the digital office environment (software) to more systematically understand the real state of people's sedentary behavior, and the potential correlation between work matters and sedentary behavior.
The "Constructed Probe" concept group proposes a series of technologically enabled constructed prototypes as probes for office workers to practice and explore in real dynamic scenarios. The "Mediated Probe" concept group innovatively proposes two ways of collecting data from users' contextual considerations: "conscious" and "unconscious", and advocates using the app to allow people to customize The team also advocated the use of an app to allow people to customize their own energetic behavioral labels, and a competition to discover popular and long-term viable forms of energetics in practice.
All of the above insights and ideas provide design researchers in related fields with a rich and diverse perspective on design; facilitating the connection between people, technology, and human potential, and better enabling scientific design research to reach the public.
Let's take a look at the event site!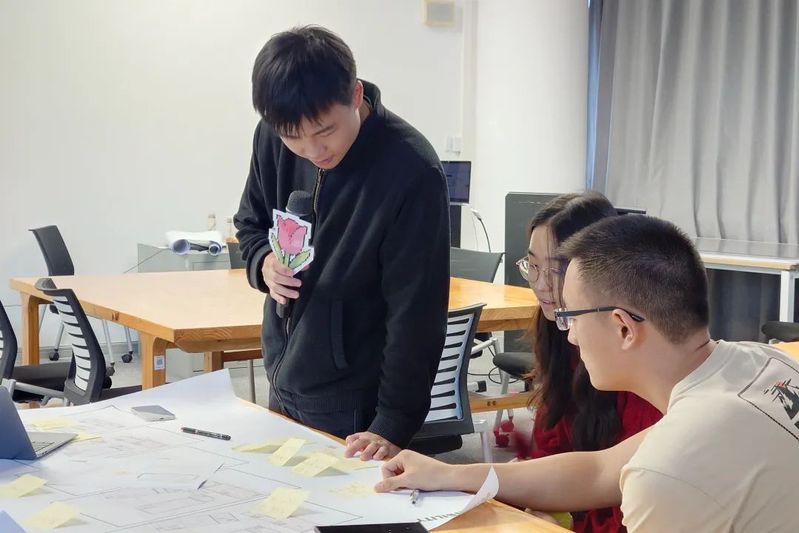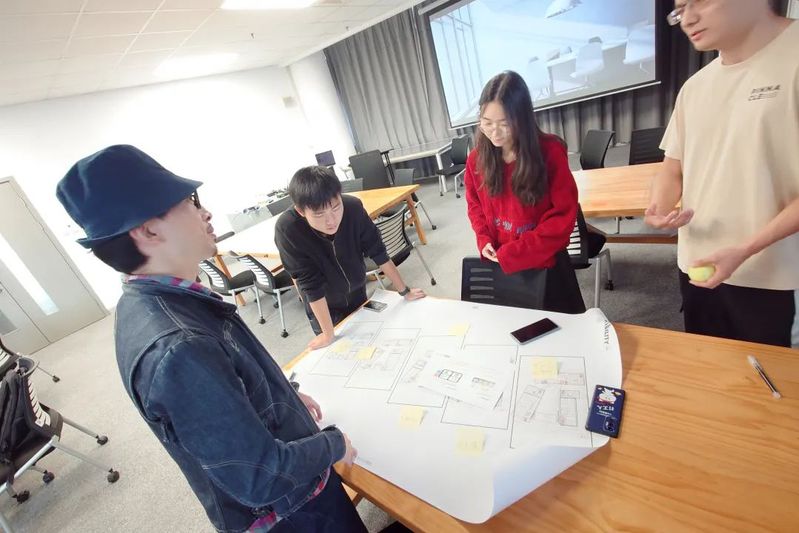 Egg link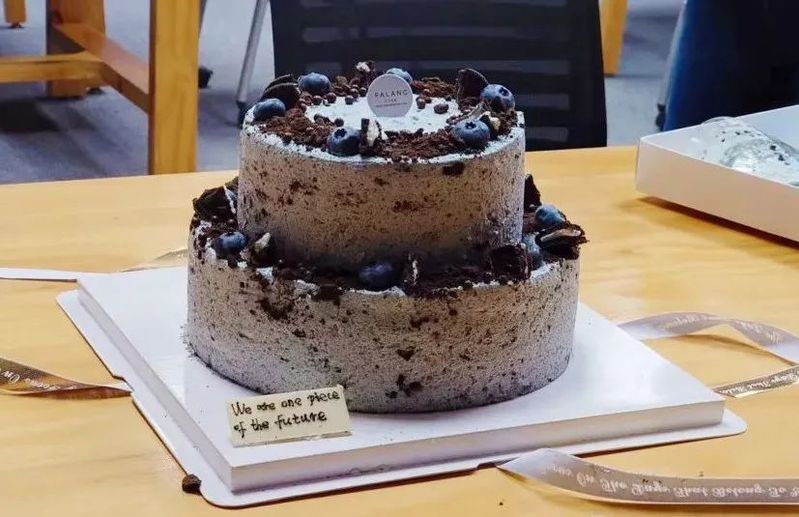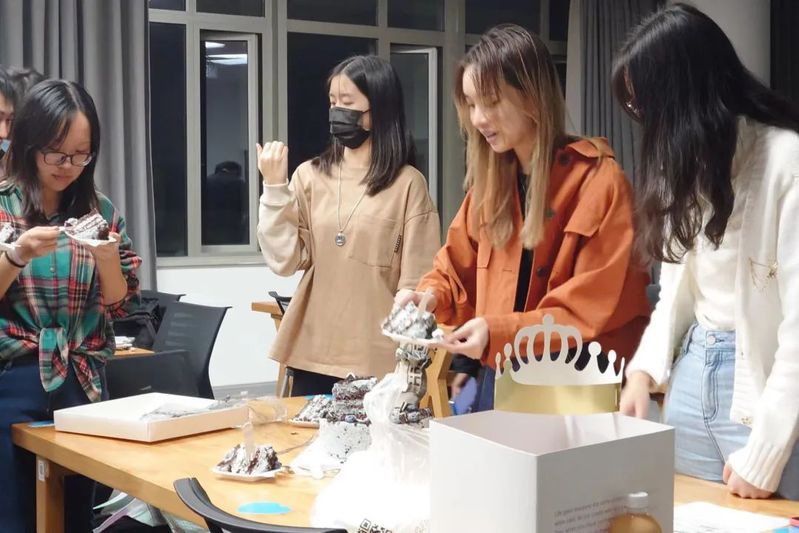 Student Feedback
It gave me a new way of thinking about pre-research, which used to be one-way, asking one question at a time, with each question corresponding to one direction. But this framework gave me a logical way to ask questions upfront, and made me realize that research/interviews need to be a step-by-step process, where the subject has to understand the situation and think about it before getting some reliable information.
It can be used in the research phase to generate user expectations and ideas for solving specific problems, and to ensure that users have a certain knowledge of the specific problem, so that the conclusions are valid. Of course there is still a need for data volume and more analysis before it can be truly applied in the design field.
My experience is that the framework is well structured and logical, and that it is possible to brainstorm some points that I had not thought of before. The design framework used in the workshop helped me to understand the structured way of thinking about problems and the need for two-way information acquisition with rational and logical feedback, but also with flexible and personalized care.
I learned about the importance of pre-preparation before obtaining real information, such as what to tell respondents at the beginning, how to position or classify their situation using standard descriptions, and then proceed to problem solving.
ACTIVE FLEXIBILITY Workshop Postscript
Although we are now in the 21st century, many designers or design education groups are still stuck in the 20th century in terms of their knowledge and approach to design. Nowadays, human-computer interaction has made great development in China, but its profound value and influence are still far from being widely understood and recognized. In response to the increasingly complex practical needs, more and more areas have become factors that practitioners of industrial design/my-interaction design need to consider in their work-based learning process, such as theology and design, design research, social science in design, practice-based research, work process and computer science, design history, aesthetics and philosophy, and so on. Many of the social issues and design challenges that we face today have not been considered in traditional design disciplines before. That's why I was invited by the Intelligent Virtual Design Lab (DIV Lab) of the School of Creativity and Arts of Shanghai University of Science and Technology to organize this multi-dimensional workshop.
Designers' intentions and intentions are often good, but how to use design tools to effectively help other people requires a lot of scientific research and a deep understanding of the background of the target population. In the face of the design challenges of the 21st century, future designers need to go beyond the basic skills of technical study and academic research to observe the world, understand other people, and think about life. In this workshop, we not only introduced the current development of design and design research in the 21st century (e.g., the difference between classical design, design thinking and digital design; and the significance of developing constructive design research in the context of the Regnomotor Interaction Paradigm 3.0), but also used a series of interactive exercises with the Cultural Probe tool. In addition, a series of interactive exercises using the Cultural Probe tool were conducted to allow students to experience the use and significance of design theoretical frameworks in design and research through their own practice.
I would like to conclude with a quote and a photo from a conference on AI that I attended not long ago, "Data and AI itself are not the solutions. Doing AI design really need ethical effort,we have to find the balance between technology and our future." I wish you all to stay enthusiastic, alive, and full of imagination in the ever-changing future!
--Workshop instructor Xiang Yu (Ph.D. candidate in Systemic Change Research Group, Department of Industrial Design, Eindhoven University of Applied Sciences)